Overview
The Willowemoc Creek is a little over 26 miles long. The creek flows east to west out of the mountains just north of the hamlet of Willowemoc.
Down creek from there is the town of Livingson Manor. Livingston Manor has had a recent resurgence of business and commerce. It features a great main street along the Willowemoc. Livingston Manor offers great food for your mid afternoon break from fishing.
Down creek from the town of Livingston Manor is the Catskill Fly Fishing Museum. This is a must-see if you're visiting the area. (Yes you can drive over the bridge at the museum)
Past the museum, the creek snakes along Old Route 17 to the town of Roscoe, NY (Trout Town USA). This area has a few marked areas for anglers to enter.
Arriving on the eastern side of the village, the Willowemoc Creek enters Roscoe joining the Beaverkill River. This is one of the most famous pools in fly fishing called Junction Pool.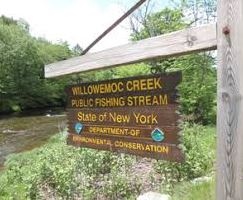 Fishing Willowemoc Creek
The Willowemoc is a great creek to start fly fishing. With ample amounts of stocked brown trout and also an abundance of wild brown trout, rainbow trout and brook trout, there always seem to be fish around.
When fishing in the early spring before prolific hatches begin, use small streamers and wooly buggers to entice the trout.
In the prime May and June months, make sure to have your dry flies. Great amounts of Hendricksons, Drakes, March Browns, Caddis and Blue Wing Olives make fishing the Willowemoc great fun.
In the summer find the deep pools and pocket water. Don't leave before dark either. The magic hour always produces a rising fish or two. Make sure to always check the water temperature in the summer months. Please practice ethical fishing.
Fishing the Willowemoc in the fall is enjoyed by many dedicated anglers. In the fall, use small Blue Winged Olives and even pull a big streamer.
WILLOWEMOC TRIBUTARIES
Butternut Brook Fir Brook
Fall Brook (at Willowemoc)
Hunter Brook
Mongaup Creek
Little Beaver Kill
Cattail Brook (at Livingston Manor)
Bascom Brook
Hazel Brook
Stewart Brook
Pro Tip: Use a small pheasant tail off of a big attractor fly