What is mousing?
Mousing is a term used referring to the patterns we fish at night. Mousing in simple terms is fishing with a replica mouse made from animal parts and synthetic materials to imitate a real life mouse. Mice use the river as a roadway during the nocturnal hours. Mice will swim along the edges of the Upper Delaware Rivers. During the night large predator brown trout will make these mice a meal.
Skill Level
We do not take everyone night fishing. This can be a dangerous activity and requires experienced anglers in healthy physical shape. Nighttime balance is essential. The angler must be able to consistently cast 30 feet in the dark with no lights. Also when casting a mouse at night on a drift boat you must keep a quiet and sound body. Rocking the boat, noise and light will not help when mousing for Upper Delaware trout.
When do you go mousing on the Upper Delaware?
Mousing is best during the summer months when the days are long and hot and the rivers are low. Although every angler has their ideas of when the best time is, we have found that complete darkness til around midnight is best. That is why most of our night time guided mousing trips begin at around 9:00pm. We also spend many hours mousing the Upper Delaware past the midnight hour however most trips are from 9:00pm until around 1:00am in the morning.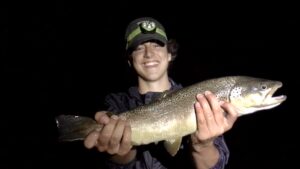 Where do you go mouse the Upper Delaware?
We run mousing trips by drift boat on the West Branch of the Delaware, East Branch of the Delaware and the Main Stem of the Delaware River. Choosing the right spot to mouse effectly requires many factors that come into play. Weather and water conditions are the main two that we monitor. We also check outlying indicators such as barometric pressure gauges and moon phases. On any single night we can be anywhere from Deposit NY to Calicoon NY to Downsville NY. It all depends on the conditions that night. We do wading mousing trips as well on the Beaverkill River and Willowemoc Creek. Most clients prefer to go mousing by drift boat however because the trout tend to be bigger on the bigger rivers.


Upper Delaware Mouse Fly Patterns
When mousing there are dozens of mouse patterns to choose from. We prefer less of a "body" and more of a profile. What's this mean for our fly patterns? The bulky old deer hair flies that look beautiful in the fly shop aren't what were after. We want the fish to fit it in their mouths.
Here are two of our favorite mousing patterns. The first is from Steve Yewchuck and it is his Emperor Mouse. The second is a common deer hair foam Moorish Mouse. I prefer to swap out the deer hair and wrap the hook shank with diagonal cut fur strip. Make sure to palmer your mouse body's backwards.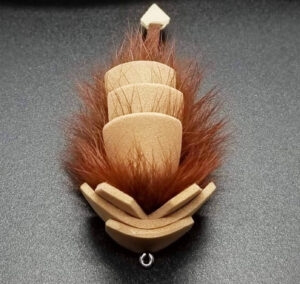 Gear needed to mouse fish?
When mousing the Upper Delaware River we will use 7 and 8 weights to chuck the mice. The tippet can be anywhere from 10 to 25 pound test. Leaders are generally short and stout. Anglers that fish with us on the Upper Delaware do not need to bring their own gear. If you have a comfortable fly fishing set up that you want to use. Be our guests.
Why fish the Upper Delaware at night?
Nighttime is when the "next level" of fish come out to eat. It is not uncommon to have multiple fish over 20" at night. Brown trout are nocturnal so fishing at night is actually very natural for them.
When Upper Delaware Brown Trout reach the 22 inch mark most will switch their diet to amphibians, bait fish and small rodents. During the daytime on the Upper Delaware the trophy mark is 20 inches. At night the goal is 2 footer.
With a competent angler that is proficient at casting, it is not uncommon to break the 20 inch mark regularly.