The Main Stem of the Delaware River begins at the confluence of the East Branch and West Branch. The two rivers join about a mile south of Hancock New York.
Where is the Main-stem?
Trout frequent the "mainstem" from where the two rivers join all the way south to Calicoon New York. During the summer months if there is low water or droughts in the area, the waters near Calicoon tend to get too warm to ethically fish for trout.
Targeted Species
The mainstem is famous for the abundance of wild rainbow trout and big brown trout. The riffles are packed with rainbows while the browns tend to be mixed in and in the medium to slower runs and pools. On the lower sections from Lordville down past the Delaware Water Gap has high numbers of smallmouth bass.
Flow Charts
See the up-to-date flow chart below to see how the flows are right now. The two main charts to analyze are Lordville New York and Calicoon New York. Montage New Jersey's gauge is a good indicator of what the river is doing well south of the trout water.
Since the main stem is the largest river in the Catskills to trout fish, it is one of the more difficult rivers to wade fish. There is access on both sides of the river too.
The western side of the river is Pennsylvania and the eastern side of the main stem is New York. A fishing license from either state will suffice.
We offer mousing trips on the Main Stem of the Upper Delaware. Please call or email to find out more information about night time trips.
Access
The best way to access the main stem is via drift boat. The access points are very spread out, and a drift boat will allow you to get into remote spots to fish. We do recommend a fly fishing guide if you plan on fishing the Mainstem of the Delaware River.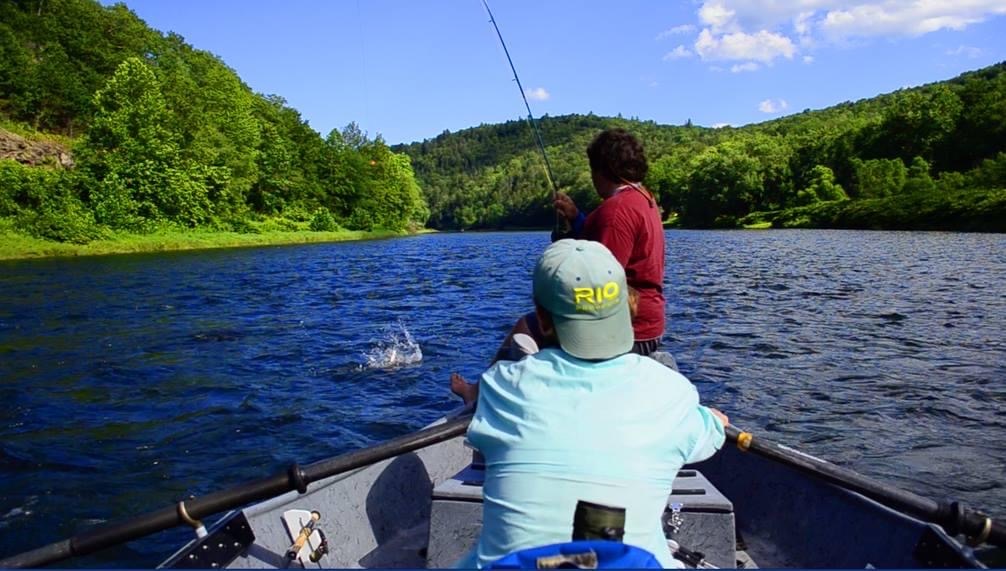 Below is an early season brown trout caught on a Hendrickson Compardun. As you can see, the leaves are not on the trees yet. This fish was sitting off the main current eating in a back eddy.